Зачем нужны сетевые модели
Основные плюсы использования многоуровневой модели: 
standard and interoperability – стандартизация приводит к упрощению межвендорного взаимодействия, снижения стоимости
split development and abstraction – разработчикам приложений в общем случае не нужно знать как работает физика/коммутируются фреймы и проч т.к. нет функциональных взаимодействий между уровнями, кроме инкапсуляции данных. В результате такого подхода (часто используемого в разработке) разработчики работают быстрее с сетью.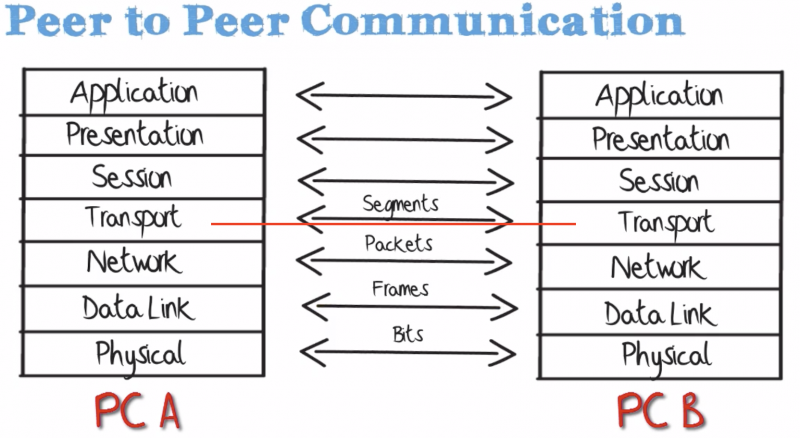 Layer 7 Application
Layer 7 предоставляет сетевые сервисы для пользователей и приложений. Тут работает HTTP, FTP, telnet, POP3, LDAP. Поверх них работают приложения – например Chrome, FireFox, Putty, TeraTerm.
Layer 6 Presentation
Layer 6 отвечает за стандартизацию кодирования данных для реализации корректного (стороны понимают друг друга) взаимодействия между разными машинами/ОС/приложениями (jgp, ascii, unicode, html, zip, mp3). Кроме того тут зачастую реализуется шифрование.
LAyer 5 SESSION
Отвечает за сессии между приложениями (установку/поддержание/прекращение). Пример протоколов – RPC, NFS, NetBIOS, PPTP. Тут так же зачастую реализуется security, logging.
LAyer 4 SESSION
Тут реализуется:
end-to-end connection (p2p связность) – взаимодействие между двумя хостами на уровне сокетов
message segmentation and reassemble (сегментация и сбор)
data transport reliability (надежность доставки)
flow control (контроль потока)
session multiplexing (мультиплексирование сессий)
Подробнее в TCP.
LAyer 3 Network
Тут происходит глобальная логическая адресация хостов (IP, CLNS), маршрутизация трафика на роутерах. Для осуществления этого роутеры заполняют свои RIB маршрутной информацией на основе алгоритмов различных протоколов (RIP, OSPF, BGP, IS-IS, etc).
LAyer 2 DATA-LINK
Обеспечивает физическую адресацию (MAC) и доступ к среде передачи (CSMA/CD, CSMA/CA). Тут регулируется доступ к среде передачи, если среда передачи общая (multi-access). Кто-то пишет что на уровне так же делается error detection, но я бы не сказал, что это особенность этого уровня – контрольная сумма в большинстве уровней (сетевых протоколов) проверяется.
Пример: Ethernet, Wi-Fi, PPP, HDLC, Frame Relay, ATM.
LAyer 1 PHYSICAL
Определяет как данные будут переданы. По сути тут определяются:
физические спецификации: мощности сигнала, количество pin, длины/качество (категории) кабеля, используемый тип модуляции в среде, тип среды (copper, fiber, radio), коннекторы и интерфейсы (rj45 lan connector, v.35 wan connector, sc/lc optical connector) – все эти спецификации нужны прежде всего для совместимости устройств разных вендоров между собой
кодирование: на основе чего (изменения какого состояния – напряжения, света) будет на отправляющей стороне закодировано 0/1, а на принимающей стороне раскодировано 0/1.